ASB Mission
The Associated Student Body at Palos Verdes High School is governed by the ASB Student Council. Consisting of over 40 students, this class creates, implants and oversees all student spirit activities at Palos Verdes High School. Student activities range from pep rallies and dances, to awareness weeks and school-wide community service. The purpose of each activity is to engage students and create a welcoming, spirited, enriched and involved school community at Palos Verdes High School. In addition to campus wide events, the ASB Student Council also oversees approximately 100 student run organizations on our campus.
Clubs
There is a wide variety of clubs on campus, social, community service, political, sports and more.
2017-18 Club List
Black Scholars Union
Economics Club
Expressive Literature
Forensic Science and Medicine
French Honors Society
Latin Honors Society
Math Honor Society
National Art Honor Society
National Chinese Honor Society
National English Honor Society
National Honor Society-Dance
Odyssey of the Mind
Open Orchard Productions
Science National Honor Society
Spanish Honor Society
Thespian Club
Tri-M Music Honors Society
Adore the Shore
A Sense of Home
Boogie for Brazil
Cancer Care Packages
Chance To Dance
Child Life Wish List
Diabetes Awareness Foundation
Distressed Children International
Dulce Vida
El Abrigo
Feeding Friends on Foot
Fiji Culture and Assistance
Friendship Club
Girls Learn International
Give Back to the Children
Good Neighbors
Hope for the Homeless
Junior Booster Club
Interact Club
KIWINS
Lacrosse the Nations
Out of Africa
Pawz and Palz
Politics Club
Project Runway
Project Phillipines
PV For Paws
PV Green School Initiative
PV Habitat for Humanity
PV Lunches with Love
PV Press Friends
PV Unicef
Sea King Social Scene
Soccer without Borders
Soilders' Angles Club
Stow it, Don't Throw it Club
Toberman Club
Wishes for Willenberg
50/50 Club
Anime and Manga Alliance
Aviation Club
Behind the Price Tag
Cupcake Club
Chamber Musicians
D&D Alliance
Drum Circle
FIFA Club
Fight (or Flight)
Foreign Newsletter
Friends Not Food
Grilling Club
GSA
Guitar Jams
Hacky Sack Club
Hammock Club
He for She
Hip-Hop Club
I Pink I can
It's On us
Junior State of America
Karaoke Club
La Vida Yoga
MUSES
Ping Pong Club
Poetry Club
PV Cornhole Association
PV eSports
PV Fishing Club
PV Photography Club
PV Stocks
PV Teenage Republicans
S.C.R.U.B.S.
Sea Queens
Shoe Game Club
Ukulele Club
Women in Science and Engineering
PV CEO Club
FCA
French Club
Irish American Club
Latin Club
Korean Culture Club
Pinoy Club
Intramural Sports Club
Powder Puff
Spikeball Club
The Ultimate Dodgeball Club
---
Be the Change

The Be the Change leadership class is a branch of the Associated Student Body (ASB) at Palos Verdes High School. Student leaders focus on activities aimed at enhancing the school culture and creating a positive and welcoming environment for all Sea Kings, emphasizing the creation of an atmosphere where diversity, acceptance, communication, collaboration and tolerance are paramount. The activities generated by the BTC class include Red Ribbon Week, Friendship Week, Diversity Week, student birthday acknowledgements, new student lunches and other various community service, awareness events and educational activities. PVHS BTC is the originator of Remember the Tritons (formerly known as Brian's Walk), an annual community fundraiser held in February to raise money to support the research of Pediatric Cancer in support of a fellow Sea King and in memory of all Sea Kings who lost their lives too soon.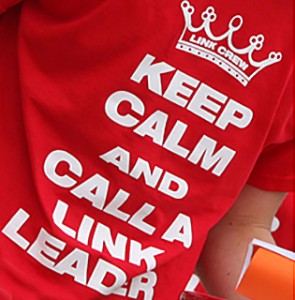 Link Crew
Link Crew is a high school transition program that welcomes freshmen and makes them feel comfortable throughout the first year of their high school experience. Link Crew begins with a powerful orientation that makes freshmen excited and proud to be attending their new high school and allows them to begin developing relationships and strategies that will contribute to their high school success. The purpose of this orientation is to make the transition from middle school to high school a positive one. This Orientation is for ALL freshmen.
After orientation, Link Crew continues, providing a variety of both Academic and Social Follow Up Activities throughout the year.