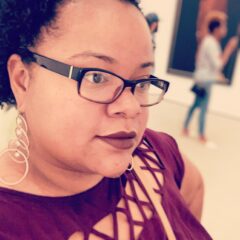 Ms. Ariel Bostic
Room: 201 Ceramics / AP Art History 504
Phone: 310-378-8471 x43221
Email: bostica@pvpusd.net
Ariel Bostic attended CSU Long Beach where she completed a Bachelor of Arts in Art Education and Fine arts credential with an emphasis in Ceramics and Fiber. Ms. Bostic teaches Ceramics and AP Art History at PVHS. Ms. Bostic offers different opportunities to incorporate other artistic practices within the ceramic medium. AP Art history students also get the opportunity to explore their creative sides by completing non-messy art projects that reflect the artwork we are studying. Ms. Bostic joined the Sea King Family after teaching at Leuzinger High school in Lawndale Ca. Ariel is excited and grateful for the opportunity to work with a community of students and parents who fully support the arts in education. Ms. Bostic is looking forward to creating magic through art with everyone at PVHS.
Courses
Ceramics I & II: Students are introduced to various hand building, wheel throwing, glazing, and artistic techniques. Ceramics II students have the opportunity to work more independently on their own ideas. Glass blowing is an option some students can choose to participate in with a guest teacher.