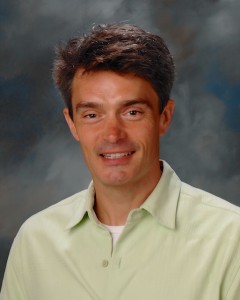 Department Lead: Bill Peterman
Room: 511
Phone: 310-378-8471 Ext. 511
Email: petermanb@pvpusd.net
Bill Peterman is a nine-year veteran of the Palos Verdes High School English Department. This is his third year as Department Head.
Originally from Highland Park, IL, Mr. Peterman attended the University of Illinois where he earned a dual degree in English and Rhetoric. He intended to pursue a law degree after college, but a minor success in a short story contest upon graduation altered this plan. Thus began a long journey to write stories for a living, eventually leading him to leave Chicagoland for Los Angeles. He worked for over a decade in the entertainment industry including development jobs at Metro-Goldwyn-Mayer, Sony Entertainment, and various smaller companies. Eventually, his passion for show biz waned and he earned a Master's in Education at LMU. He took only one interview after earning his LMU degree, the one at PVHS. In his free time, Mr. Peterman enjoys sports and travel and roots hard for his Chicago Bears and Chicago Cubs. He lives in Manhattan Beach with his wife Stephanie, daughter Amelia, 9, and son August, 6.
The English Department at Palos Verdes High School is a proud team of fourteen teachers who lead over twenty-five core and elective classes. We are committed to preparing students for the diverse literary demands of the 21st century and support the district BYOD (Bring Your Own Device) policy. Our English teachers emphasize careful reading, responsible thinking, and clear, precise expression of ideas. Students enjoy works representing a broad range of historical and cultural perspectives. Yearbook, the Point, our school newspaper, and the National English Honor Society chapter are all are lead by members of our department. We offer honors classes, opportunities to publish your work, and give annual awards for analytical writing, creative writing, and literary analysis.
Writing Program
This methodology allows English teachers and all students at PVHS to have a common language when discussing and writing essays.
Honors and Advanced Placement Courses
PVHS offers English 1-3 Honors and English 3 Language AP and English 4 Literature AP.
National English Honors Society
The National English Honors Society (NEHS) is a national organization exclusively for high school students and faculty who, in the field of English, exhibit high standards of academic excellence