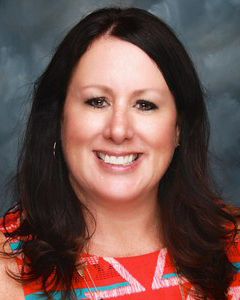 Department Lead: Julie Munoz
Room: 210
Phone: 310-378-8471 Ext. 230
Email: munozj@pvpusd.net
Julie Munoz is a native Texan in her 20th year of teaching. She has been teaching at PVHS since 2002. Julie is passionate about education and enjoys working with students. She is the Director of the Science Research Program at PVHS and also piloted and has led the Galapagos Science Research program since 2004. Julie is an alumni of the University of North Texas where she earned a Bachelor of Science degree in Biology and her Master's degree is in Educational Technology. She lives in Redondo Beach with her husband Billy and son Levi.
The Science department at PVHS consists of 11 outstanding teachers committed to engaging students with science and teaching the necessary 21st century skills that will make them college and career ready. The science curriculum offered at PVHS has a little something for everyone. Here at PVHS we are proud to offer a selection of courses that provide authentic and unique hands-on learning opportunities. Such opportunities include: conducting science research in the Galapagos Islands, observing and identifying local tide pool organisms, performing protein purification and DNA technology techniques, building a remotely operated vehicle, preforming a variety of chemistry experiments, and figuring out the physics of rollercoasters! Whatever your interests, our enthusiastic science teachers love what they do and are excited to work with you in:
Biology, Biology Honors, Biology 2, Biology AP
Chemistry, Chemistry Honors, Chemistry AP
Physics, Physics AP
Environmental Science AP
Marine Biology, Marine Biology Honors
Physiology and Anatomy
Developmental Physiology and Sports Medicine
Science Research
and our award-winning Palos Verdes Institute of Technology (PVIT) program
https://www.youtube.com/watch?v=4Ve1rxUmWEI&feature=youtu.be