PRIDE = Personal Responsibility In Daily Efforts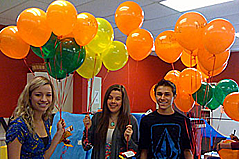 Goal: Continual recognition throughout the school year for high academic performance, effort and character; Intrinsically motivating students to WANT to do better for themselves by reinforcing positive behaviors and using motivation as a tool to create action.
Daily
Credit Cards 
How it works: slips given to teachers to reward students for doing something positive. We give the cards to the teachers – teachers give them to kids to place in main office box- every two weeks or so, we draw a name – the kid wins a prize and so does the teacher who nominated them.
Criteria: Anything that a teacher wants to reward – effort – citizenship- personal achievement – good deeds – these are generally small things that kids are "caught being good" doing…
Prize: $ 5 gift card to student and teacher who nominates
Spotlights
How it works: Spotlights are inserted into the daily announcements to "spotlight" a group or individual for doing a great job in some capacity. This is simply an announcement in the Daily Bulletin.
Criteria: Any effort that is noticed by ASB or brought to the attention of ASB
Prize: No prize just a good old fashioned pat on the back!
Monthly
Teacher of the Month 
How it works: The administration will decide on a teacher to be recognized each month
Criteria: Outstanding efforts within our school community
Prize: Recognition at staff meeting, certificate for classroom, posters from ASB kids, gift card, end of the year special lunch delivered to teachers who received these awards, special recognition at Graduation.
Student of the Month 
How it works: Teachers nominate a student who is doing a wonderful job on our campus.  Administration will select 1 student per grade level each month to honor as the Student of the Month.
Criteria: Teachers and staff can nominate students for a variety of reasons, perhaps it is making a significant improvement in a class, going above and beyond in some way, contributing positively to an activity etc.. These are more major achievements that a staff member or teacher might notice.
Prize: Recognition at class comp, photo and name on display in the main office, photo and name on web page, front of the line food pass.
Quarter
Incentives at Lunch
How it works: Students who qualify for PV PRIDE (3.5) or Straight A's will be notified that they are "on track" for these academic incentive programs.
Criteria: PV PRIDE ( 3.5 GPA or higher) Straight A's = perfect A's at the quarter
Prize: Cakes at end of quarter for kids in Senior Park
CLASS COMPETITIONS!!!!!! 
How it works: Each class is assigned a color – this is a super fun day to deck yourselves out in your color and show your pride for your class! The whole school is in the gym for a assembly/competition between the classes! Who will win this year???? Lots of prizes and student recognition will take place. You don't want to miss a Class Comp Day! There will be two though the school year.
Semester
Sea King Scholar List 
How it works: Kids who have a 3.5 GPA qualify for PV Pride  punch cards
Criteria: 3.5 GPA
Prize: Posters with names on them and posting of list to web page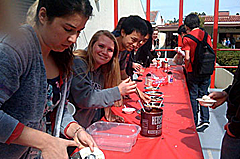 Straight A's 
How it works: Students who have Straight As are rewarded for their academic efforts
Criteria: Straight A at the semester
Prize:  ice cream , posters with names on them, web page recognition
Average Raisers
How it works: Students who raise their GPA up .3 will be recognized
Criteria: raise GPA .3 at the semester
Prize: Names on posters in hallway, balloons to their class with candy attached
Year End
Senior Honors and Awards Night
Achievement Assembly/ Class Comp
Honor students for outstanding efforts – Perfect attendance at all levels
Student of the Year ( taken from the student of the months)
Teacher of the Year ( taken from the teacher of the months)
Pathways for Change Champions
Straight A's ( both semesters) Academic Letters for Juniors