Capstone Overview and Mission Statement
Students applying to colleges across the country are facing the unprecedented challenge of distinguishing themselves amongst an increasingly stellar applicant pool. Top private schools in the nation have addressed this challenge by including the rigor of Capstone culminating projects into their curriculum. Fortunately, graduates of Palos Verdes High School enjoy the advantage of listing their Capstone Project experience on college applications, thus highlighting yet another PVHS educational opportunity that is on par with the elite and highly competitive private schools.
Our Capstone mission is to prepare our students for college and careers by teaching them research, writing and public speaking skills, as well as engaging them in real world experiences (i.e. professional networking, job shadowing and internships). Our goal is that students will discover a life-long passion at PVHS, whether it is something they wish to study further in college, pursue on a professional level or maintain as a life-long hobby. Through Capstone, our students are afforded an opportunity to delve deeply into project topics, be partnered with relevant industry partners and compete for distinguished recognition and scholarship opportunities.
The Capstone Projects will be coordinated through English classes as the focus will be on CCSS Writing. All seniors will be required to complete Tier 1.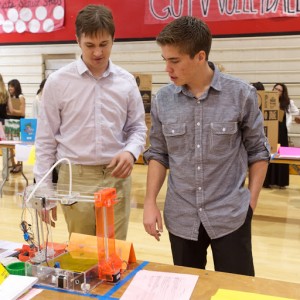 Tier 1: Seniors will complete a written report about their capstone project. All seniors will present their capstone project on a presentation board to an open audience in the MPR/GYM during a Capstone Projects Conference. District officials, industry partners, faculty and community members will grade the projects and presentations with a scoring rubric. This portion of the Capstone Projects is mandatory for all seniors to effectively receive a grade for the project in their English class.
Students will be paired with a faculty mentor and provided opportunities to connect with an industry leader. Each career pathway will have an advisory board that will be comprised of faculty and industry sector partners (Each pathway, or "academy" will have an Academy Coordinator; an Academy Director will oversee all 5 academies). Students will be provided guidance during Interdisciplinary Team Meeting Days on Late Start Wednesday. Students will be able to pair-up and collaborate in teams no larger than 2 in creating their projects.
In preparation for designing their projects students will be choosing College and Career Pathways by industry sector:
Arts, Media & Entertainment
Education, Psychology & Public Service
Engineering & Environmental Science
Health Sciences & Medical Technology
Business, Marketing & Sales
(Sectors were adapted from career pathways identified through Linked Learning Initiative)
Tier 2: 50 seniors will be selected from the Capstone Projects Conference scoring and will be invited by stakeholders (faculty, industry leaders, and district staff) to compete in a panel presentation. The 50 seniors will be grouped into industry sectors and panel's specific to each industry sector will judge the capstone projects. These seniors will be provided a special cord for graduation as a reward.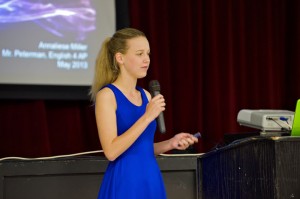 Tier 3: From the 50 seniors scored through the panels, the top 5 pairs/student will compete in front of a mixed-industry panel in the Capstone Final Competition to compete for scholarships. (Scholarships will be raised through industry and community partners). Finalists will be provided a unique sash (add doctoral gown?) for graduation.
In conclusion, the revamping of the capstone/senior projects is in line with the Guiding Principles developed in the Senior Projects Overhaul Meeting on August 15, 2011:
Develop deeper, longer lasting relationships between PVHS and community organizations
Use senior projects to positively affect the lives of others
Involve the entire PVHS faculty in an equitable manner
Provide students with an opportunity to conduct scholarly research
We believe that through effective capstone projects, PVHS can become the model school for implementing 21st century skills to best prepare our students for Common Core.